Rufus Wainwright to compose opera about Roman emperor Hadrian
Rufus Wainwright is composing an opera based on the life of Emperor Hadrian. Working with actor, director and playwright Daniel MacIvor – who will write the libretto – the singer will premiere his second original production with Toronto's Canadian Opera Company in 2018.
"You've got everything," Wainwright and MacIvor told the Globe and Mail. "A big chorus, lots of characters, the Nile … a love story … a political story … all the elements of traditional grand opera." It's also a tragic same-sex romance: Hadrian's lover Antinous drowned during the peak of their love-affair.
"The mystery of why Hadrian's remarkable love for Antinous – underlined by his bottomless grief – has not been celebrated widely as a model of eros points to a fear of same-sex love that has changed little from his age to ours," MacIvor told Canadian broadcaster CBC. "The deeper I delve into Hadrian's world and his time, the more parallels I see to how we live today."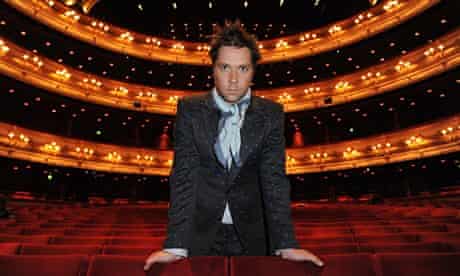 Wainwright began composing the opera several years ago; a version of the overture was one of the last things he played for his mother, Kate McGarrigle, before her death in January 2010. He was inspired by the 1951 novel Memoirs of Hadrian, by Marguerite Yourcenar. But Wainwright was also intimidated by the emotional scale of the emperor's story. "I wasn't confident enough then in my abilities to navigate all the emotional possibilities the opera demands," he said. "I needed to try something else first." Instead of moving forward with his Roman tragedy, the singer wrote a lighter opera called Prima Donna, premiering it at the Manchester international festival.
"Unlike Rufus, who breathes it in and out like air … opera is not a form I'm familiar with," MacIvor admitted. But the 51-year-old is one of Canada's most celebrated playwrights and directors; he was introduced to Wainwright via
Atom Egoyan
.
For Wainwright, the most important goal is "to bring back some of that grandeur of opera of the past".
"I think in our modern world, among younger audiences especially, there's a hunger for a sort of spectacle that the opera world thinks is no longer relevant," he said.
Prima Donna was written in French, but the new opera's libretto will be sung in English, a spokeswoman for the Canadian Opera Company told
the New York Times
, "perhaps with a little Latin".
Best known for the defensive wall he built across the northern limit of Roman Britain,
Hadrian
was emperor for 21 years. He died of natural causes in AD138, aged 62.
More Information