By WWOS staff

7:36am Jul 27, 2021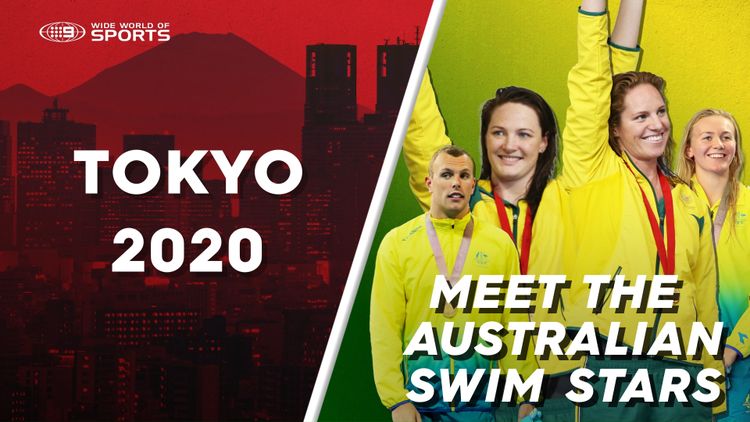 Tokyo Olympics LIVE: Day 4
Welcome to Wide World of Sports' daily live coverage of the 2020 Tokyo Olympic Games. Here's all the latest Olympics news updates and headlines for July 27, 2021.
AUSSIES IN ACTION (all times AEST)
Women's individual triathlon, 7.30am: Ashleigh Gentle, Jaz Hedgeland, Emma Jeffcoat
Men's hockey, 10.30am: Australia vs Argentina
Men's rugby sevens, 11.30am: Australia vs New Zealand
Swimming, 11.30am-1.05pm: Ariane Titmus (women's 200m freestyle semi-finals), Kaylee McKeown (women's 100m backstroke final), Mitch Larkin (men's 100m backstroke final)
Women's surfing, 12.12pm: Sally Fitzgibbons, quarter-finals
Women's canoe slalom, 3pm: Jess Fox, K1 semi-finals
Women's mountain biking, 4pm: Bec McConnell, cross country final
Women's canoe slalom, 5.15pm: Jess Fox, K1 final
Women's football, 6pm: Australia vs USA
Women's basketball, 6.20pm: Australia vs Belgium
Men's water polo, 8.50pm: Australia vs Croatia
live feed
The women's individual triathlon at the Olympics has been delayed due to stormy, rainy conditions across Tokyo Bay.
The swim leg is up first and conditions have been deemed unsuitable for racing, with a delay of at least 15 minutes announced.
The race was meant to go at 6.30am local time (7.30am AEST) due to the severe heat in Tokyo during the Games.
Heavy rain may yet delay the race further.
The greatest gymnast of all time must rally Team USA for the Americans to win their third consecutive gold medal.
Simone Biles and her squad trail the team representing the Russian Olympic Committee heading into Tuesday's women's gymnastics team final.
Biles had a rare off day — off for her — in qualifications and the Americans head into the women's final trailing the team representing the Russian Olympic Committee.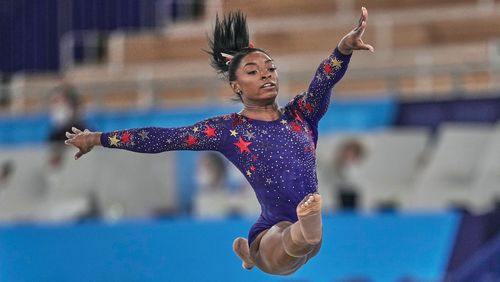 The US has three gymnasts making their Olympic debuts in Suni Lee, Grace McCallum and Jordan Chiles, and the trio all had significant form breaks as the Americans fell behind. But so did Biles, who despite putting up the top score was not at her best.
Biles bounded off the mat at the end of a tumbling pass on floor and her block on her Cheng vault was crooked.
Each member of the four-person team competed in each event during qualifications with the lowest score dropped.
For the finals, the competition moves to three-up/three-count and the Americans have thrived in that format for more than a decade. Biles is scheduled to compete in all five events.
Ariarne Titmus didn't just beat Katie Ledecky, she beat her in the best form the iconic American has had for three years.
The 3:57.36 time that Ledecky swam in the 400m freestyle final was, in fact, the best that she's ever produced outside of her world record (3:56.46). Titmus (3:56.69), just 0.23 outside the world record, was simply better. Full stop.
Americans, on social media in particular, have been losing their minds over Titmus beating Ledecky, apparently forgetting that the Aussie also beat the US great over 400m at the 2019 world championships.
Sports Illustrated senior writer Pat Forde offered a bit of cool-headed context.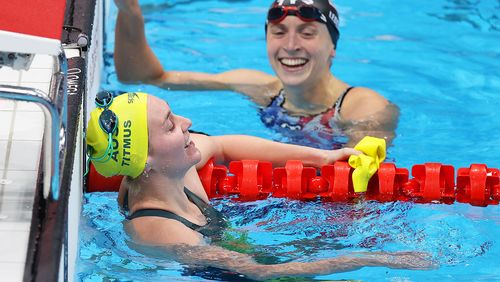 Some in the US media believe that Titmus had Ledecky spooked before their race.
"Her eyes gave her away, though, belying a trepidation inconsistent with arguably the most dominant female swimmer in history," the San Diego Union Tribune's Mark Ziegler wrote.
"She looked nervous, anxious, tense, concerned. Justifiably so, it turned out. Four minutes later, her nearly decade-long reign over distance swimming had been usurped by a 20-year-old from the Australian island of Tasmania."
Australian teenager Kaylee McKeown will swim for gold in the final of the women's 100m backstroke on Tuesday.
McKeown is the world record holder in the event and cruised into the final as third-fastest qualifier, meaning that she will race from lane three.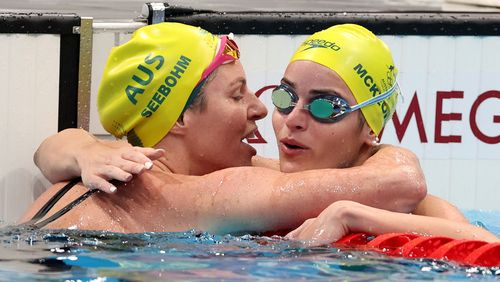 She has the chance to join Ariarne Titmus as an individual gold medallist at the Tokyo Olympics, after 'The Terminator' won the 400m over Katie Ledecky on Monday.
Titmus and Ledecky are in action again on Tuesday in the semi-finals of the 200m freestyle. The American great is the event's defending champion, though Titmus was good enough to take the 400m title that she won at Rio 2016 and will be confident of doing so again.